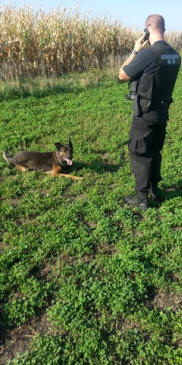 The K-9 Unit was established here in approximately 1990. The first dog "employed" by Nemaha County was Cita who was certified in narcotics detection and handled by Steve Linden and later by Doug Dalinghaus. In 1998 the NMSO purchased a dual purpose K-9 named Rocky who was handled by Doug Lehwald. PSD (Police Service Dog) Rocky was trained in not only narcotics detection, but also in handler protection and tracking. In 2005, PSD Rocky was retired. Shortly after that the program took a while to find the right fit of K-9 and Handler. Finally in 2007, another dual purpose K-9 was brought on. PSD Lacos was handled by Darron Wessel until 2009, and was followed by PSD Uno partnered with Sgt. Wessel from 2009 until 2020.
The current K-9 / Handler combination with the Sheriff's Office is Sergeant Darron Wessel and PSD Arco. PSD Arco is a Belgian Malinois who has been certified in Narcotics Detection, Handler Protection and Tracking.
Over the years, the K-9 Unit has proved to be a useful tool in many situations. It is a program that we look forward to continuing.